Baobab dried fruit pulp is derived from the fruits of the Baobab tree (Adansonia digitata), also known as the 'upside down tree'. On pollination by fruit bats, this tree produces large green or brownish fruits. The baobab tree is found primarily in South Africa, Botswana, Namibia, Mozambique and Zimbabwe.
Our
Baobab Body Butter
is a rich cream for supple skin that stays touchably soft all day.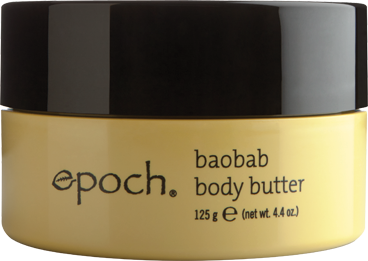 Benefits
Delivers all day moisturization for supple, healthy looking skin.
Contains high levels of antioxidants.
Reduces dry skin.
Promotes softer, smoother, and more toned looking skin.
Enhances the resiliency of skin over time.
Conditions naturally with skin beneficial ethnobotanicals.
Moisturizes skin of all ages.
Key Ingredients
Baobab Fruit Pulp Extract (adansonia digitata pulp extract) — a natural humectant and emollient, this moisturizing fruit extract reduces dry skin, improves the skin's appearance, and conditions skin for long-lasting moisturization.
Shea Butter — a rich emollient that enhances the skin's natural barrier functions and increases moisture levels.
Macadamia Nut Oil — high in monounsaturated fatty acids, this moisturizing oil closely resembles sebum (oil naturally produced by the skin for moisture and protection), is easily absorbed by the skin, and helps maintain the skin's water barrier functions.
Try this and post a comment about the difference in your skin!
Click here to visit the website and get products at wholesale, or contact me.